Korea – Behind the Scenes

Each Word Travels episode is loosely broken down into three elements: a Julia story, a Robin story and a dual story. While there's tons of stuff to do and see in Korea, we were torn about which dual story we wanted to feature in the show. We had two really cool stories, an overnight experience at a Buddhist temple living life as a monk, or a visit to the biggest congregation in the world.

Since the Buddhist temple had us getting up at the crack of dawn, prostrating in incense-thick temples, Word Travels producers figured it would be the most interesting. Our visit to Korea's Yoido Full Gospel Church didn't make it to air. Here's a behind the scenes look at that experience.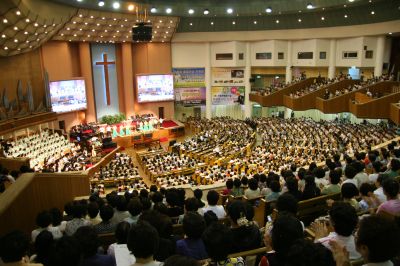 Dubbed by the Guinness Book of World Records, the Yoido Full Gospel Church has the biggest congregation in the world. Boasting a congregation of over 750,000 Christian worshippers, it's hard to imagine that this mega church is located just 20-minutes outside Seoul, Korea.

From the outside, this red-brick dome topped with a giant cross looked more like a stadium than it did a place of worship. Walking up the steps into the building, I felt like I was going to a rock show rather than a Wednesday morning religious service. A crowd of elderly Korean ladies pushed past me on a mad dash to get a good seat. Like groupies rushing the stage of an Elvis concert, they seemed to have no qualms about trampling the weak. Apparently, the pews fill up quickly, so it's best to come a 1/2 hour before the service. Our cameraman, Sean scurried around the church trying to get the best point of view.

In the guts of the building, there were three floors of seats placed in a semi-circle facing the stage. All eyes were on a joyous choir, singing and swaying to synthesized music.

Devoid of stain-glass windows, Virgin Mary statues, candles or religious iconography, this place reminded me of a convention centre. Like the JumboTron at major sporting events, there were several large screens above the stage, with camera men panning across the crowd.

Though the country is predominantly Buddhist, there is a powerful Christian contingent. With over 12,000 people watching the service, I couldn't help but think of the economics behind this event. With this volume of daily attendees, the collection pot must be a healthy sum (aided perhaps by the conveniently placed ATM machine on the bottom floor).

As people cried out, lifting their hands to the ceiling in evangelical zeal, I felt a bit out of my element. Despite being baptized Anglican and celebrating our saviour Santa every Christmas, religion has never really been a part of my life. Grandma would try to get me to Sunday morning service, but long speeches about salvation and sin just weren't for me. Yet, years later, there I was sitting among thousands of devotees all locked in prayer.


The church has a BYOB policy – bring your own bible. Since everything is in Korean, the church provided headphones, which I plug into a little black box offering English, Japanese, Chinese, Spanish, French, Russian, Indonesian and Arabic translations. Since the English translations were so terrible, I had to strain to hear what the pastor was saying. Sean, with soundman Paul attached, moved around the room, getting production shots of Robin and I.

With patience, I was able to understand a bit of what retired Rev. David Yonggi Cho was saying. "Our neighbors in North Korea are suffering. We must care about social problems. They are our brothers, sisters and neighbors. Love your neighbours and love the church with your soul, body and mind," he preached. At 72 years old, his voice echoed through the stadium and the crowd breath a collective Amen.

This quirky segment for Word Travels in Korea didn't see the light of day, but the experience is one I'll remember fondly…


< back to the episode
< back to the list of articles