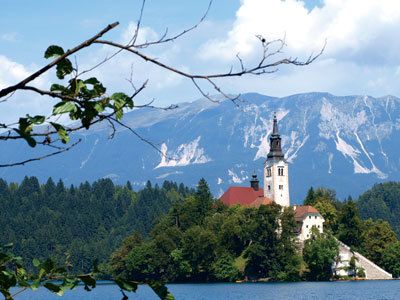 Europe and I don't usually get along. Expensive, predictable and over-run with tourists, central Europe is a part of the world my wandering spirit and wallet like to avoid.

I prepared for my trip to Slovenia with a little research. Bordering Italy, Croatia, Hungary and Austria, the Republic of Slovenia gained independence from the former region of Yugoslavia in 1991. A population of 2 million, most of them Roman Catholic, Slovenia has its own language, but English is widely spoken.

Since it's officially in central Europe, I had to expect the usual: crowded attractions, octogenarian tour buses and an unforgiving Euro that kicks our currency's butt. Instead, I discovered Slovenia is a hidden gem.
My trip started in Ljubljana, a vibrant capital city that exists off the radar of most travellers. With outdoor cafes, cool artistic communities, trendy boutiques and some of the best fire-roasted pizza I've ever had, I was hooked. Days were spent touring the Old Town, caramel gelato in hand, gazing up at Baroque architecture. Nights were spent sipping local beer, debating with students about which one was better — Lasko or Union?

From Ljubljana, I traveled to Bled, a tiny community on the edge of Triglav National Park. Set against a backdrop of the snow-capped Julian Alps, Bled "bleeds" medieval charm and romance.

Visitors can take a boat tour to the church of St. Mary in the middle of the lake. From there, after walking up the 99 steps to the top of the cathedral, tourists have a chance to make all their wishes come true. Legend has it that if you honor the Virgin Mary by ringing the church bell three times, your wish will be granted.

I tried, pulling hard on the fraying rope, but getting the bell to ring only three times is harder than it seems. You really have to yank, and with overzealous force comes a bell that rings too many times.

Maybe it was the legend, maybe it was the fresh air, the tranquility of the lake's thermal waters or the euphoria of a wedding party that was taking place at the time, but there was something truly magical about Bled. The whole area is quaint with a capital Q.

One of the smallest Central-European countries, Slovenia offers a range of natural beauty, from underground caves to picturesque waterfalls and mountain peaks.

Since it's all about nature, the list of outdoor activities is long: cycling, hiking, rafting, skiing — you name it.

From trendy Ljubljana to the foothills of the Alps, I found myself completely smitten with Slovenia.

The landscape is gorgeous, the city streets squeaky clean and there is a Mediterranean vibe of sophistication, without the pretension — or price of other Euro countries.

For more articles, videos and travel tips visit juliadimon.com

< back to the episode
< back to the list of articles