This beautiful Central European country was a bit of a happy accident. We were originally scheduled to film our episode in Georgia. Contacts were made, stories were researched, all was set, and then the Russians invaded. It was a country that few people had heard of the week before (and therefore great Word Travels fodder) and suddenly, it was headline news the world over. We thought it might blow over, this inconvenient and tragic war (aren't they all?), and I honestly suggested we go ahead anyway, war and all. When the airport outside Tbilisi was bombed, we had to make fast alternatives. We looked at direct flights from Istanbul, and spotted Ljubljana. My only previous experience with Slovenia was a backpacker buddy swearing it was gorgeous. Journeys have been made for far less.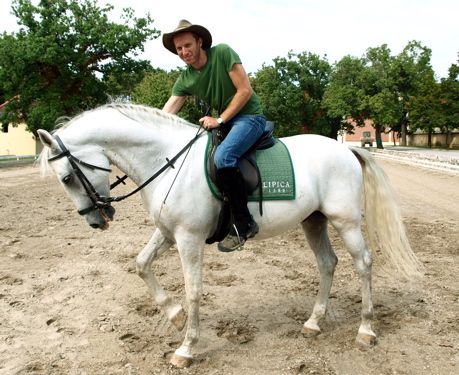 After the heat and bustle of Turkey, Slovenia was like stepping into a cultural air conditioner. Everything was spotless, smooth, orderly, and very, very green. When I read about the Lipizzaner horses, I knew instantly I had my story. The way horse lovers reacted to the mere name (mare name?) alerted me, a horse novice, to their allure. I would not get to ride a Lipizzaner. It would allow me to ride it. My previous "western" style of riding amounted to "get on and hang on", but with the Lipizzaners, clenching a butt muscle is a direction. My instructors were patient (not to mention photogenic), and I really wished I could spend more time getting to know the horses (not to mention the instructors!). In the stable, it took 26 takes before I could correctly pronounce Lipica. It sounds like "Lee's Pizza" in case you ever find yourself in a similar predicament.
Anyway, I had a real profound moment walking in the meadow, surrounded by dozens of grazing mares. Not many people get this kind of access, and not many people would be stupid enough to run at full tilt next to the horses, inches from being trampled. It was worth it, my moments with the unicorns.

It was our sound guy Paul's birthday, so for the hell of it, we decided to go to Italy. The unmanned border was literally within walking distance, but we piled in the van and headed to the Slovenian holiday town of Portoroz, driving through Italy as we did so. Only in Central Europe are six or seven countries within a few hours drive.

Bled was as gorgeous as it looks, and I loved the chance to paraglide again. I've done it in Turkey (at the world's highest launch), and off the ocean of San Diego's Torrey Pines. Here in the Julian Alps, it was spectacular, the cloud carpet burning away to reveal the valley below. As for the high ropes course, well, that might as well have been built with my name on it.

Slovenia was so incredibly civilized, the people friendly, one of those countries in Europe that fly under the radar but then jump out of nowhere to surprise you. Hiring bikes, riding around the city, enjoying the pizza, soaking up the castles, cobblestone and canals – if you're ever in Central Europe, I'd highly recommend chasing down your own unicorns.



< back to the episode
< back to the list of articles