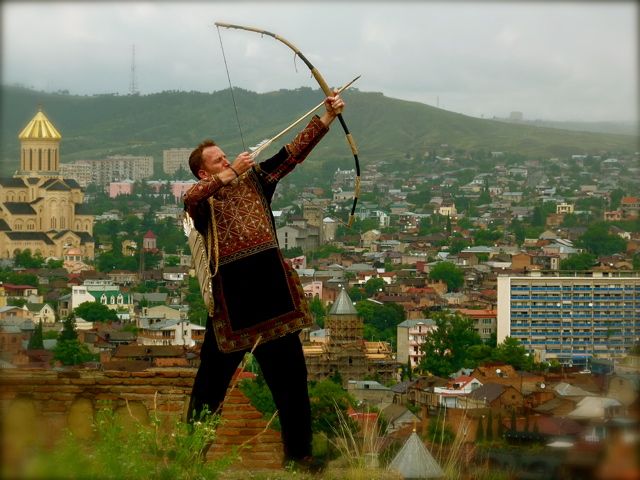 Admit it, you've heard the name Georgia in the news, but don't know much about it. Where it is (even more or less), what language they speak, what they're famous for, the religion they follow? OK, then I admit it. When news reports first surfaced that Russia had invaded Georgia in August 2008, it was no surprise that residents of Atlanta choked the emergency lines, clogged the freeway, and loaded up on ammunition. This small country in the Caucuses region of Eurasia has remained mostly under the radar since its 1991 independence from the collapsed Soviet Union. Suddenly, it found its radars being bombed by Russian jets, and it's wiki page bombed by millions of confused Americans.
The August War of 2008 dominated headlines for a few weeks, as Russia and Georgia sparred over an ethnic enclave called South Ossetia. It's the kind of remote yet geo-sensitive conflict that would make a great post cold-war spy movie starring Clive Owen. As it happened, I was just weeks away from landing in the capital of Tbilisi, ready to film an episode for the second season of Word Travels. The fighting was mostly north, and it seemed we still might have had a chance, until bombs landed around Tbilisi itself, and we diverted to Slovenia instead. A year later, we renewed our contacts and after a long 32-hour transit from Vancouver via Amsterdam via Istanbul, we arrived in Georgia.
Georgian script, called Mkhedruli, has deep historical influences, which somehow invoke memories of Thailand. Georgian itself flows off the tongue and sounds unlike any language I've come across. Gamarjoba means "hello", gmalobt means "thanks", and vxvdebi rasac gulisxmob means "I know what you mean", which of course, I don't. Rounding off the facts, there are some 4.7 million people living in Georgia, surrounded by Russia, Turkey, Armenia, Azerbaijan, and the Black Sea. The currency is the lari, 82% of the country are Orthodox Christians, they're close to joining NATO, have a crazy history stretching back thousands of years, across snowcapped mountains and lush green plains. They also drive like lunatics, feast like there's no tomorrow, and are friendly as hell. In other words, the kind of Eastern European country everyone should visit, but very few people do.
Tbilisi is overlooked by the impressive 4th century Narikala fortress, spiked with gold church domes sparkling in the sun, while frenetic traffic hauls ass along streets blessed with surprising and excellent public art. The Kura River meanders alongside old churches and treelined boulevards. The exhaust smog can parch the throat, but there's plenty of historical juice to quench it. Sacked by everyone from the Mongols to the Persians, Turks, Byzantiums, Arabs and Russians too, I walk across the landmark Metekhi Bridge and learn how hundreds of thousands of Georgians were beheaded by the Persians, right here, for refusing to walk over their Christian icons. Georgians are a ferociously brave lot, boldly outspoken, steeped in nationalist pride. They couldn't wait to declare independence from the USSR (called the Rose Revolution), but also found themselves in a civil war shortly afterwards, mired in an ongoing battle with separatists in regions like South Ossetia and Abkhazia. These and other newly acquired facts were helping me to focus on anything other than the fact that I was sprawled out naked on a marble slab with a man walking on my back.
< back to the episode
< back to the list of articles